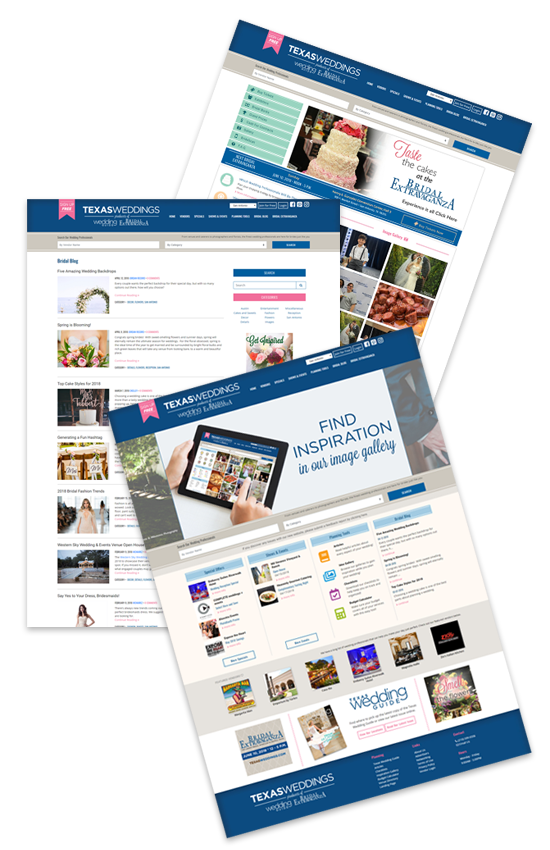 More than 80% of couples planning their wedding are doing their research online. Our highly ranked web sites ensure brides can find your business 24/7!
TexasWeddings.com catch brides-to-be at the beginning of their planning process, and unlike many other planning resources, brides do not have to create an account to use our websites.
We give brides full access to our resources, providing them with useful Planning Tools such as:
Articles
Our helpful articles cover all phases of the planning process.
Checklists
Our checklists help to keep them on track.
Inspiration Gallery
Our photo galleries give inspiration while they plan their wedding.
Virtual Magazine
Our print edition gone digital lets brides find your ad 24 hours a day.
Bride's Registration
This gives you new, qualified leads weekly.
Social Media
We engage couples on the platforms they use.
Specials
Everyone wants a good deal. What's yours? Let brides know when you have an open day or a limited time special offer.
Events
Having an open house, grand opening, or other event? We can help promote, manage reservations and registrations for a successful event. These are our most visited website pages.
Bridal Blog
Our Bridal Blog offers brides a wide variety of insight and information from top experts – YOU! Submit articles to us, you'll get the credit and a link to your profile page.
When you build your company profile on our web site, you'll have several features you can utilize to attract brides' attention.
YOUR PROFILE PAGE INCLUDES:
Active Links to:
Your Website
Your Email: Let brides contact you directly
Location Map
Videos
Reviews
Social Media
Multiple Photos
All About Your Buisness
Your Special Offers & Open House Dates