Since 1987, the Wedding Guide planner and resource guide has helped thousands of brides through every step of the wedding planning process.
While keeping brides up-to-date on the newest trends in weddings, the Wedding Guide focuses on providing couples with the knowledge they need to make educated choices for their special day.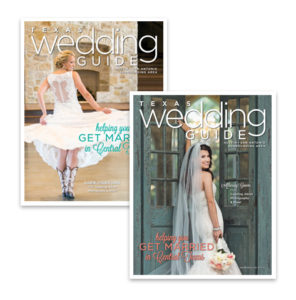 WHY BRIDES LOVE
THE WEDDING GUIDE
Hundreds of photographs to spark ideas
Helpful articles on HOW to plan their wedding
Information on the newest trends
Local, reliable wedding professionals
Registered brides receive information on discounts, shows, events and more!
Convenient workbook and planner includes:

Timelines
Comparison Charts
Budget Worksheets
Checklists
And much more

It's FREE at many local bridal shops, event venues, jewelry stores, florists and cake shops!
WHY PROFFESIONALS LOVE
THE WEDDING GUIDE
Keeps your business in front of more than 20,000 brides each year.
Educates the brides on using true wedding professionals and how to interact with them. An educated bride is your best customer.
Builds credibility. Couples have trusted the Wedding Guide for 30 years. When brides see you in the Wedding Guide, they know you are a professional they can trust.
Assists in branding your business with an effective attractive ad in a high-quality publication.
Helps increase website traffic. When brides find you in the Wedding Guide, they are more likely to seek out your website for more information.
Qualified leads means you always have a fresh source for developing more business.
PRINT is in!
4 out of 5 brides use an average of

3 bridal magazines

.1
Nearly 60% of brides used at least 1 regional magazine.1
Magazines are the

#1 medium of engagement

– across all dimensions measured. Magazines continue to score significantly higher than TV or Internet in ad receptivity and all of the other engagement dimensions, including "trustworthy" and "inspirational".2
Magazines and

magazine ads garner the most attention

: Studies show that when consumers read magazines they are much less likely to engage with other media or to take part in non-media activities compared to the users of TV, radio or the Internet.3

95% of 18-35 year olds

read print magazines.4

Magazines drive web

search, especially for women, more than any other medium. More than internet advertising and twice that of social media.5
Magazine

ads rank #1

of all media in driving purchases.6
Readers

enjoy reading magazine ads

. They don't pay to avoid them as they do with other media.7
1 | The Knot 2 | Simmons Multi-Media Engagement Study 3 | BIGresearch Simultaneous Media Usage Study 4 | Association of Magazine Media/Kantar Group 5 | BIGinsight Media Behaviors & Influence Survey 6 | Marketing Evolution, 2011 7 | Affinity Vista Service, 2011
OTHER SERVICES
Printing
By utilizing our relationship with graphic designers and printers, we can provide you with high-quality, low-cost marketing pieces for whatever use you have. From business cards to post cards and sales sheets to booklets, we can handle it all for you at a price that will surprise you.
Sponsorships
When you become a Bridal Extravaganza sponsor, you set yourself apart from the competition and boost your brand with increased visibility and recognition by having your logo included on Bridal Extravaganza marketing materials. Leverage your advertising dollars with an efficient and effective marketing campaign. There are three sponsorship levels to fit every budget.
Video Spotlight
Need a video to help promote your business? Ask us how we can make it happen for a fraction of the cost of most other companies.